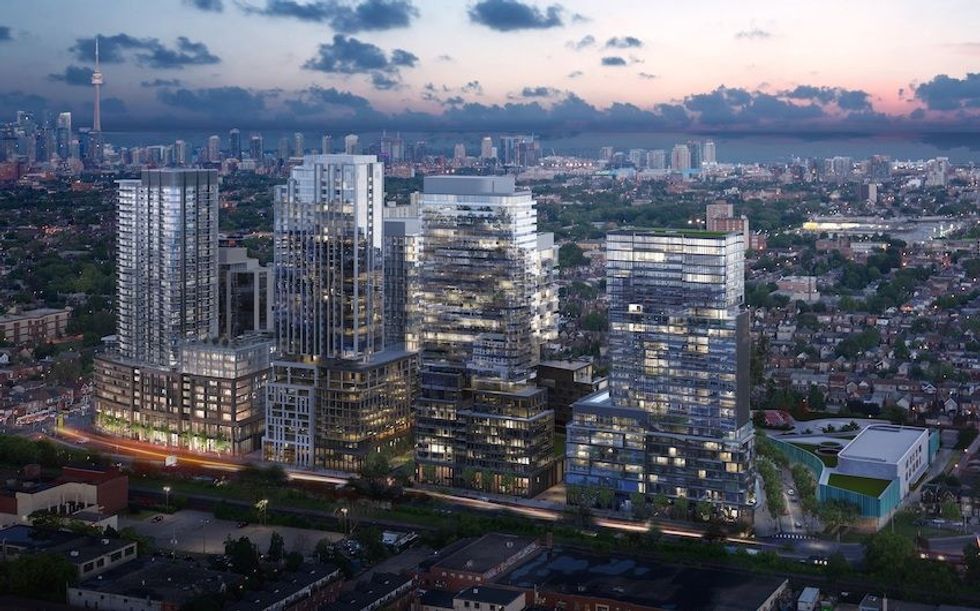 Real estate company Elad Canada officially changes its name to Almadev
Written by
STOREYS Custom Studio
What's old is new for one of Canada's leading real estate companies.
Elad Canada has officially changed its name to Almadev, unveiling a new brand identity that includes a revamped logo, typology, iconography and color palette.
The rebranding reflects the company's evolution over the past 20 years, the company explains. Over the years, Elad has built a solid reputation in income generating properties and developing famous planned communities in Canada and the United States. But it was time to switch things up with a refreshed look and feel.
"Over the past few decades, our business has experienced phenomenal growth and we have developed exceptional expertise in asset management and the development of planned communities. It was time to create a new identity that reflects who we are today," says Rafael Lazer, CEO of Almadev. "We are excited to embark on this new chapter; Almadev perfectly encapsulates our unique philosophy around real estate, and it represents our drive to continually improve and push ourselves in new directions.
READ: Core calls back to businesses as downtown Toronto wakes up
Lazer enlisted the expertise of Toronto-based advertising and branding agency Channel 13 to help rebrand.
"They needed an identity that encapsulated their unique philosophy around real estate and represented their drive to continuously improve and push themselves in new directions," says Channel 13 Creative Director and Partner Michael Gioffre.
"The inspiration behind the rebranding was a deep dive to find out who Elad was and how they continue to add value to the communities they have their hand in," says Gioffre. "As they have grown over the past decades, they have been challenged to identify a new business name that reflects their holistic approach to real estate and the soul they inject into each community. Although their name changed, nothing about the corporate structure or personnel changed.It was the same great Elad team with a new name.
As the company went through its internal brainstorming processes, they landed on the word "Alma," which means "world" in Aramaic and "soul" in Spanish. "It's a word that lends itself perfectly to their worldly and moving approach," says Gioffre. "'Dev' was then added as a literary term, which made up the two words, and Almadev was born.
For Channel 13, their challenge as the selected brand team was to create an identity that reflected this massive yet simple transition. "Sometimes the simplest brand briefs lend themselves to the toughest challenge and sometimes a name change can have a negative effect," says Gioffre. "Our creative team went through countless internal iterations before we landed on the new identity you see today."
The inspiration for the visual identity is derived from the double meaning of the word Alma, says Gioffre. "We wanted to create an identity that was visually global, but contemporary enough to communicate the energy it brings to their communities," says Gioffre. "The result was a beautifully designed logotype and branding. The logomark is a perfect combination of the two letters "AD", with the emphasis on the "A" being the main subject of the mark. »
Alongside the visual identity, Channel 13 worked with the team to come up with an introductory tagline. "'The New Elad – New Name, Same Soul' confirms that this change is a positive step forward in Almadev's legacy," says Gioffre. Although the real estate company may have a new name and logo, there will be no changes to "business as usual" in terms of operations at Almadev. "You can just expect more," says Gioffre.
Almadev is currently developing a planned Community Galleria on the park in Dupont and Dufferin. They also recently announced the closure of Emerald City, its 35-acre planned community in North York. Additionally, Almadev is preparing to launch in Lansing Square, a 15-acre planned community located at Sheppard Ave. and Victoria Park. Last month, the company acquired a well-connected 11.6-acre site in Vaughan, adjacent to the Vaughan Metropolitan Center.
"And I'm sure they don't stop there," says Gioffre.
Cover image: Gallery on the park (Almadev)
---
This article was produced in partnership with STOREYS Custom Studio.
Written by
STOREYS Custom Studio
STOREYS Custom Studio content is created in partnership with companies and brands looking to tell their own story.